About DeepSurface
Reduce Real Business Risk with Risk-based Predictive Vulnerability Management
DeepSurface is the first automated Predictive Vulnerability Management suite of tools that helps cybersecurity teams automate the process of analyzing and prioritizing vulnerabilities on enterprise networks.
DeepSurface enables you to:
Contextualize vulnerabilities within your as-built network
Quickly prioritize vulnerabilities that are high risk to you within the context of your network
Visualize how an attacker would pivot through your network
Easily communicate cybersecurity risk with non-technical executives
Curious to learn more about why DeepSurface is trusted by enterprise financial services, healthcare, education, legal services and insurance companies to protect their most critical assets and meet compliance requirements?
---
As environments get more complex, assets are more interconnected, so there are more risks to worry about. DeepSurface provides a visualization of different access levels of user and system accounts relative to asset patching status, so that we can see where a hacker might go, and which vulnerabilities – even low-rated ones – might be exploited if a particular account is compromised.
– CISO at one of the largest law firms in the Pacific NorthWest
View the case study with One of the largest law firms in the Pacific Northwest here
---
DeepSurface is not a threat feed, it's not a vulnerability scanner and it's not a network security policy tool.
How does it work?
DeepSurface begins with a deep and wide scan of your network incorporating, accounts, assets, installed software, user behavior, permissions, network access, vulnerability scanner data, threat feed data and network security policy outputs (plus hundreds of other data points) as part of the "network context" gathered. Using a set of advanced rules and automated analysis, DeepSurface combines all this information and creates a complete threat model that provides actionable intelligence to strategically reduce business risk on your network.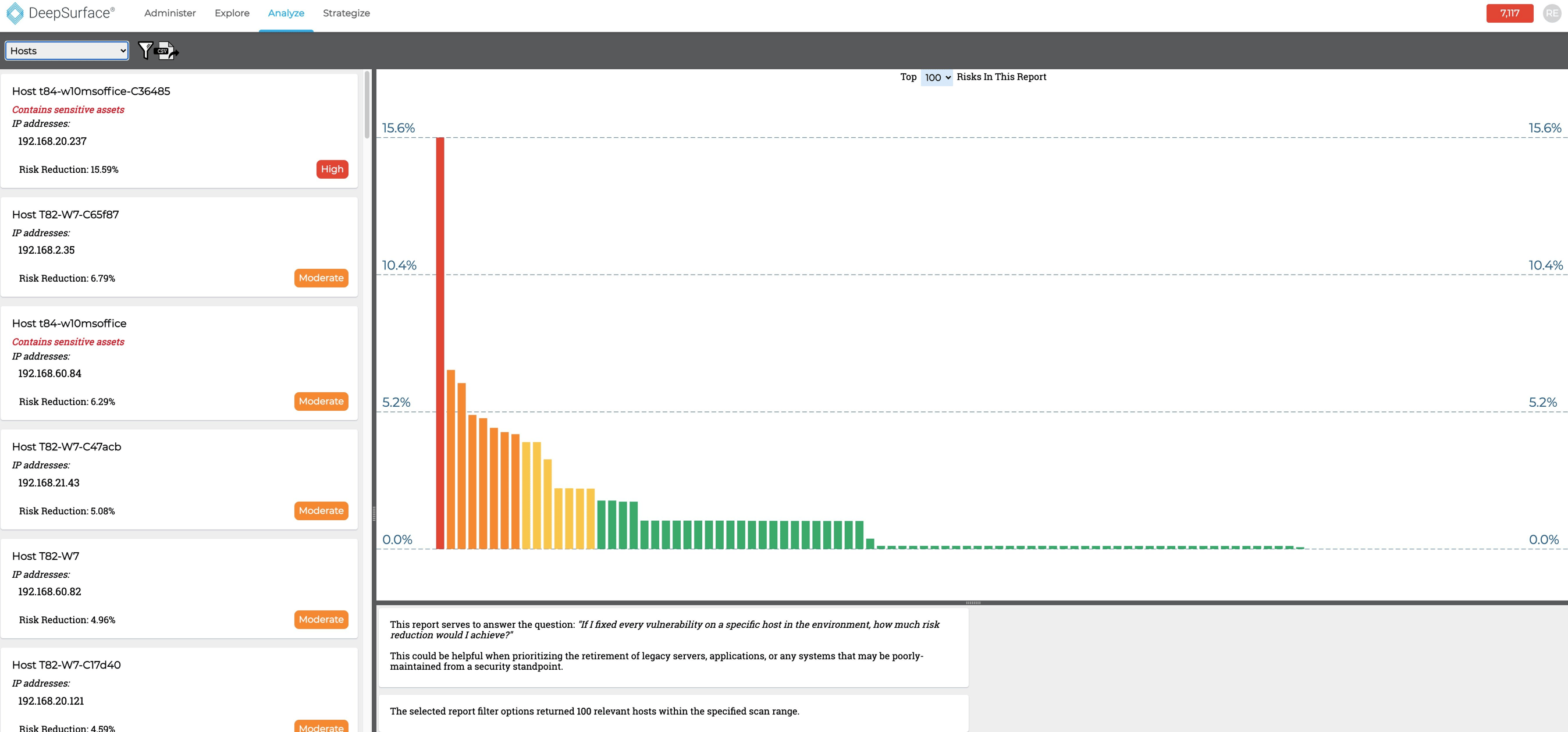 DeepSurface is incredible, they have created a cutting edge automation tool that provides me with real-time threat analysis specifically modeled for my domain and network. It's like having an additional analyst team on my staff.
– Scott Nofziger, Information Security Manager, OnPoint Community Credit Union
View the case study with OnPoint Community Credit Union here